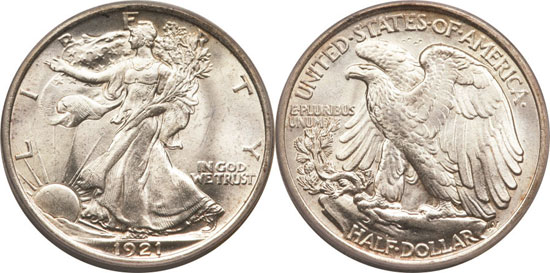 All three of the 1921 Walking Liberty Half Dollars have low mintages with 246,000 coins struck at the Philadelphia Mint, 208,000 coins struck at the Denver Mint, and 548,000 coins struck at the San Francisco Mint.
The 1921-D Walking Liberty Half Dollar has the lowest mintage for the overall series and carries the highest premium in circulated grades. Well worn pieces graded G6 sell for prices in the $250 to $300 range.
Despite the higher mintage, the 1921-S emerges as a greater rarity in higher circulated grades and uncirculated grades. Most examples of the San Francisco issue are weakly struck, making better strikes in great demand by specialists. A few dozen gem examples exist, a number which most likely includes several resubmissions as auction appearances are scarce. PCGS and NGC have both graded just a single MS-66 piece, with none finer.