The Walking Liberty Half Dollar was introduced in 1916 and minted until 1947. Designed by Adolph A. Weinman, the coins featured a stylistic and strong image of the United States, perhaps fitting during the tumultuous times during which the coins were issued. The range of years included World War I, the Great Depression, and World War II. Upon release, the coins were greeted enthusiastically by the public. Today, the series continues to enjoy a strong collector base.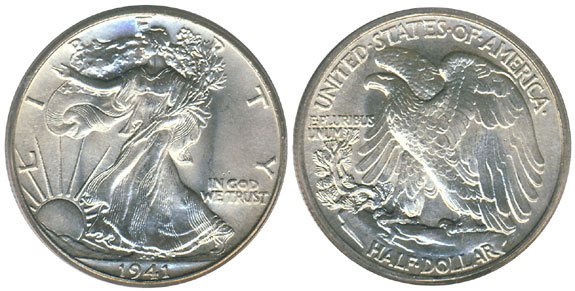 The obverse of the coin depicts the full figure of Liberty, with a long gown and American flag draped across her shoulders and billowing around her. In one hand, she holds a bouquet of olive branches, while the other hand is held outstretched before her. The sun rises from the lower left. The reverse of the coin features an eagle perched on a rock with wings raised in a defiant stance. A mountain pine springs from the rock, as a symbol of America.
The design of the Walking Liberty Half Dollar is recognized as one of the most beautiful in the history of American coinage. The obverse design was chosen to be used on the American Silver Eagle when the bullion and collector coin series was introduced in 1986. For the past twenty five years, the design has been used without interruption.
Throughout the Walking Liberty series, mintages were fairly high. As a result, a circulated set can be completed without much difficulty except for a select few issues. In higher circulated grades, and in particularly in uncirculated condition, the completion of a full set represents a major accomplishment due to the rarity of some of the earliest issues. The 1921, 1921-D , and 1921-S are all low mintage coins that carry premiums across all grades. Later in the series, the 1938-D had an uncharacteristically low mintage and also carries a premium.
This site will provide information on the Walking Liberty Half Dollars, including background for the design, coin mintages, specifications, and a closer look at some of the highlights and rarities of this intriguing and beautiful series.