Guide to U.S. Walking Liberty Half Dollars
The Walking Liberty Half Dollar features one of the most popular and iconic designs within the entirety of American numismatics. The series was introduced in 1916 and minted until 1947, a range of years which included World War I, the Great Depression, and World War II. The bold and confident image of Liberty projected strength and determination to persevere through these tumultuous times. The series enjoys a strong collector base and includes an array of key and semi-key date coins as well as a brief range of proof issues.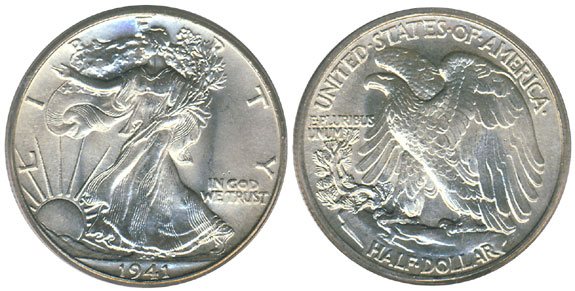 The origin of the series can be traced back to President Theodore Roosevelt's discontentment with circulating coin designs and subsequent efforts to elevate American coinage to objects of beauty. By 1916, artistic designs had been adopted for all of the gold denominations, as well as the cent and nickel. These efforts continued even after Roosevelt's presidency, when a public competition was announced to select new designs for the dime, quarter, and half dollar.
The winner for both the dime and half dollar was Adolph A. Weinman, a sculptor born in the south-German city of Karlsruhe in 1870. In the early 1880's, he and his mother immigrated to the United States, after which Weinman became a prominent sculptor in his new country. Before designing the two coins, he had already established a solid reputation, building on his experience as student of Augustus Saint-Gaudens.
Obverse Design
Weinman's obverse design for the half dollar features the full figure of Liberty wearing a long gown and walking confidently forward. An American flag is draped across her shoulders and billowing around her. Liberty's right hand is outstretched, while her left holds a bouquet of olive branches. The sun rises from the lower left with its rays emanating into the field. The inscription LIBERTY is widely spaced above, with IN GOD WE TRUST to the right and the date below.
Reverse Design
The reverse design features an eagle perched on a rock with its wings raised in a defiant stance. A mountain pine sapling is seen springing from the rock, symbolizing America. The inscription UNITED STATES OF AMERICA appears above, with E PLURIBUS UNUM to the left, and the denomination HALF DOLLAR below. The designer's initials "AW" appear beneath the eagle's right wing.
The design of the Walking Liberty Half Dollar is widely recognized as one of the most beautiful in the history of American coinage. The obverse was chosen to be used on the American Silver Eagle when the bullion and collector coin series was introduced in 1986. The design has been featured on the modern series through the current date without interruption.