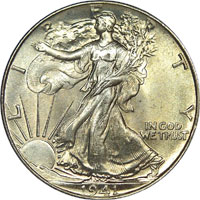 All Walking Liberty Half Dollars struck between 1916 and 1947 were made from a composition of 90% silver and 10% copper. When in uncirculated condition, these half dollars should weigh 12.50 grams (193 grains) with a diameter of 30.6 mm. All coins are struck on planchets with a reeded edge.
The Walking Liberty Half Dollar was produced at the Philadelphia, Denver and San Francisco Mints. During 1916 and 1917, mint marks appeared on the obverse of the coin, below the motto "IN GOD WE TRUST". During 1917, the mint mark was moved to the reverse of the coin, on the lower edge, between the rock and the rim of the coin. For that year, pieces were struck with either the mint mark on the obverse or the reverse, creating a total of four different branch mint issues. For all subsequent years, the mint mark maintained its placement on the reverse of the coin.
Over the years, the strike and overall quality of the coins fluctuated widely. Chief Engraver Morgan strengthened the skirt lines in 1918, moderately improving the quality of striking but many examples struck afterward still exhibit weakly struck in areas. This is especially the case the centers on both sides and Liberty's left hand. Luster ranges from satiny to frosty. Overall, most Philadelphia issues are much better produced than the branch mint coins, although there are a few exceptions.
Coins Specifications
Dates: 1916 – 1947
Mint Mark: none (Philadelphia), D (Denver), S (San Francisco)
Composition: 90% silver, 10% copper
Weight: 12.50 grams
Diameter: 30.6 mm
Edge: Reeded
Designer: Adolph A. Weinman