Proof Walking Liberty Half Dollar (Buy on eBay) were struck at the Philadelphia Mint from 1936 to 1942. This had marked the resumption of regular proof coin production after a gap of more than 20 years, however production would be suspended once again due to the second World War. During the brief seven-year run, the proof coins were sold to collectors individually by denomination or as part of a complete annual proof set. The half dollars were priced individually at 75 cents, and the complete set was priced at $1.89.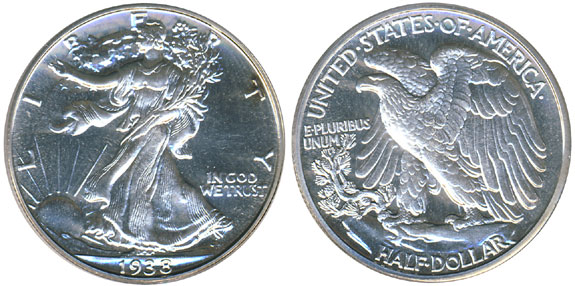 During the period of issuance, production levels increased for each subsequent year. Thus, the lowest mintage occurred for the 1936 Proof at 3,901 pieces, while the highest mintage occurred for the 1942 at 21,120. Although these figures are extremely low when compared to the production levels for circulation strikes, the proof coins were generally purchased by collectors and dealers ensuring a high survival rate.
Striking characteristics for the proof Walking Liberty Half Dollars are generally strong, with only minor weakness noted in select areas on some coins. More often detail is lost as a result of excessive polishing of the dies, which can eliminate details such as Liberty's hand and the rays of the sun. For 1940 and 1941, excessive polishing resulted in the the designer's initials "AW" being removed from some coins. The "no AW" variety is believed to be scarcer, but not all collectors are aware of the varieties.
Hairlines are a persistent problem for these early proof coins, often clearly visible because of the reflective fields. Pieces exhibiting cameo contrast are in the distinct minority, and command a significant premium when they are available.
Proof Walking Liberty Half Dollar Mintages
| Issue | Mintage |
| --- | --- |
| 1936 | 3,901 |
| 1937 | 5,728 |
| 1938 | 8,152 |
| 1939 | 8,808 |
| 1940 | 11,279 |
| 1941 | 15,412 |
| 1942 | 21,120 |