The history of the Walking Liberty Half Dollar began with the announcement of a public competition to select a new design for the denomination. This was the direct result of Presidents Roosevelt's discontent with circulating coin designs, which he had expressed a decade earlier. By 1916, all gold denominations had been replaced with more modernistic designs, and the cent and nickel had seen new designs introduced as well. The three silver denominations were the last of the 19th century designs to be replaced in the early 20th century.
The prize winner for both the dime and half dollar was Adolph A. Weinman, a sculptor born in the south-German city of Karlsruhe in 1870. In the early 1880s, he and his mother immigrated to the United States, after which Weinman became a prominent sculptor in his new country. Before designing the two new coins, he had established a steady reputation, building on his experience as student of famous Augustus St. Gaudens.
Before the first Walking Liberty Half Dollars were struck in late 1916, a number of different prototypes, or patterns, were struck on regular planchets. These are all extremely rare, although a number of them are described in the Judd and Pollock pattern texts. The main differences are the placement, size and font of the lettering, and minor modifications in the devices. No more than a few are known for each variety, with the majority residing within the Smithsonian collection.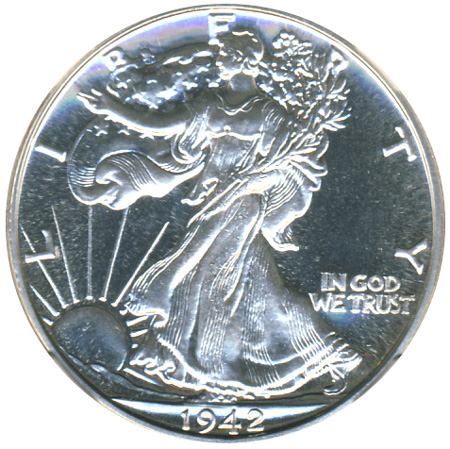 The finalized design, which was altered in various years to strengthen some design elements, is considered to be one of the most artistic of all United States coinage. On the obverse, a female figure representing Liberty is walking confidently forward. Her right hand is held open, as if in invitation, and her left hand holds a bouquet of olive branches. The word "LIBERTY" is widely spaced is above, "IN GOD WE TRUST" is in the right field, and the date is below.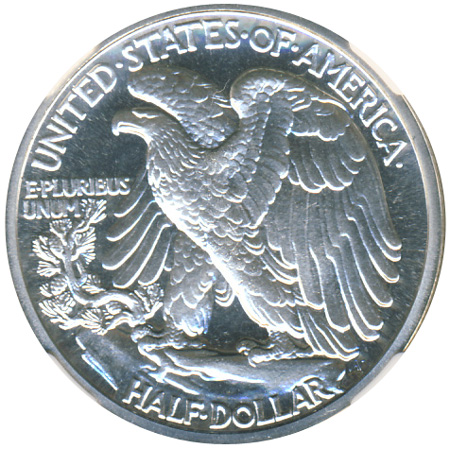 The reverse features a stylistic eagle standing on a rock with the impression that it is ready to take flight. A mountain pine sapling is seen springing from the rock, symbolzing America. The denomination, "HALF DOLLAR" is below, with "UNITED STATES OF AMERICA" above the eagle, and the motto "E PLURIBUS UNUM" in the right field. Weinman's initials, "AAW" are seen under the eagle's right wing.
Over the years, the mintages, strike, and overall quality fluctuated widely. Chief Engraver Morgan strengthened the skirt lines in 1918, moderately improving the quality of striking but many examples struck afterward still exhibit weakly struck in areas. This is especially the case the centers on both sides and Liberty's left hand. Luster ranges from satiny to frosty. Overall, most Philadelphia issues are much better produced than the branch mint coins, although there are a few exceptions.